Beebe to Host Facebook Live Virtual Town Hall on Feb. 25 for a COVID-19 and Vaccination Update 
Image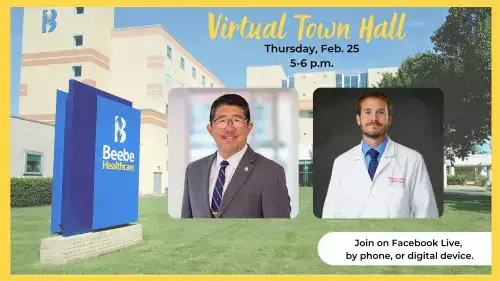 Beebe Healthcare is inviting the public to a COVID-19 Town Hall on Thursday, February 25, from 5-6 p.m.
David A. Tam, MD, MBA, FACHE, President & CEO, and Bill Chasanov, DO, Beebe's COVID-19 Response Medical Director, will share updates about the latest in cases, hospitalizations, and information about the COVID-19 vaccine.
To watch, simply log into Facebook and come to Beebe Healthcare's Facebook page to look for the live video.
If you do not have access to Facebook, you may also watch or listen to the presentation in these additional ways:
 
Laptop or desktop
https://primetime.bluejeans.com/a2m/live-event/decedvxq
 
Or by following these instructions on a mobile device:
a) Open this link : https://primetime.bluejeans.com/a2m/live-event/decedvxq 
b) Download the app if you don't have it already. 
c) Enter event ID: decedvxq 
You can also join by phone by calling one of these numbers:
 
415-466-7000 
PIN 3207453#
 
760-699-0393
PIN 5825787660#
 
Live ASL interpretation and live captioning will be available.
Captioning Link: https://www.streamtext.net/player?event=Beebe_COVID_Vaccine_Captioning. Captions will run simultaneously in a new browser window.
---