Beebe Medical Foundation Celebrates 500th Member of 1916 Club
Image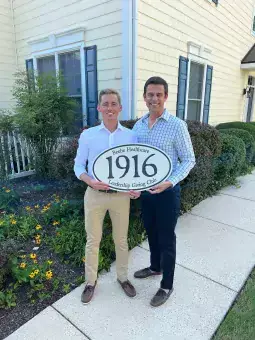 For Rehoboth Beach residents Bruce Rohr and Andrew Wills, joining the 1916 Club was an easy decision after hearing about the importance of a strong, not-for-profit community health system from Tom Protack, President of the Beebe Medical Foundation.
What Rohr and Wills didn't know is that they would become the 500th member in the esteemed leadership giving club.
"Reaching this 500th membership is an exciting milestone for the 1916 Club," Protack said. "Not only do I welcome Bruce and Andrew to the Club as two new leaders in philanthropy, but I humbly acknowledge and thank our Sussex County community for the confidence, trust and loyalty in Beebe by joining the 1916 Club."
Established in 2016 to commemorate Beebe Healthcare's founding year of 1916, becoming a member of the 1916 Club is simple: make a personal gift of $1,916 or more to the Annual Fund that supports Beebe Healthcare's innovative and expanding programs and services.
The Club ended its first year with 39 members and has continued to grow steadily, hitting its 250th member in 2019. The program is now a hallmark of the Foundation's annual fundraising campaign.
"While we haven't needed Beebe's acute care services (yet), we understand it is an excellent healthcare system, and recognize that it plays a critical role in the quality of life in Sussex County. The 1916 Club branding is also very well done and piqued my curiosity, as good branding should," said Rohr, whose career focuses on branding. "So, when Tom asked us to join, we didn't think twice. And how exciting to be the 500th member!"
As a community-based, not-for-profit healthcare system, Beebe Healthcare depends on the generous support of individuals, corporations, businesses, and private foundations. All size gifts to Beebe Healthcare are welcome and are tax-deductible as allowed by law. Please consider joining Andrew and Bruce by making your leadership gift today.
To learn more about the 1916 Club, contact the Beebe Medical Foundation at 302-644-2900 or write to [email protected]. 
---