Beebe Medical Foundation Welcomes New Board Member and Ambassador
At its most recent Board meeting, the Beebe Medical Foundation Board of Directors unanimously approved two new Board members.
Katie Johnson, DO, Medical Director of Palliative Care at Beebe Healthcare, and Juli Decker, Treasurer and Owner of Short's Marine, Inc. will join the Board of Directors.
"We presented two excellent candidates to serve on our Foundation Board and our Board of Ambassadors," said Christian Hudson, Chair of the Beebe Medical Foundation Board of Directors. "I am thrilled that Dr. Katie Johnson agreed to serve as a Director on the Foundation Board and that Juli Decker will begin her service on the Board of Ambassadors."
Dr. Johnson was born and raised in Harrisburg, Pennsylvania, and grew up taking summer trips to Dewey Beach. From a young age, she always knew she wanted to pursue a career in medicine. She went to Temple University in Philadelphia and majored in sociology with a public health pathway which allowed her to complete thesis work in Costa Rica. After college, she attended Philadelphia College of Osteopathic Medicine and was involved in mission work to Ecuador during that time. She completed her training at Methodist Dallas Medical Center and then began working at Baylor University Medical Center of Dallas.
Image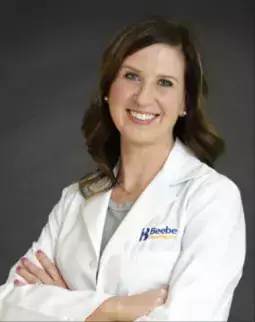 While living in Texas, she met her husband Bennett and they had two daughters, Emerson and Finley. They always had dreams of moving back to the east coast and decided to take the position with Beebe Healthcare in the summer of 2017. Dr. Johnson has grown the Palliative Care program into a large inpatient and outpatient program. Outside of work, she enjoys anything involving sports and exercise, spending time with her family, and getting together with her book club and Bunco group.
"Through all my education and career work, philanthropy has been at the forefront," she said. "I was able to attend college and complete international work due to other's generous gifts. I have also seen the many ways that philanthropy benefits healthcare and communities. When I started at Beebe, Bennett and I joined the Beebe Medical Foundation's 1916 club and we continue to be strong supporters of all the work the Foundation does. Beebe is the place that our community receives healthcare and by supporting Beebe we know we are contributing to a stronger community for all of us."
Decker, the owner of Short's Marine, Inc., a local family owned, 72-year-old business, was born and raised in Sussex County. She is a graduate of Sussex Central High School and the University of Delaware with a degree in Business Administration. Along with her parents and husband, she operates and manages the day to day operations of Short's Marine. She has been involved through-out the marine community with the Delaware Marine Trade Association and Marine Retailer Association.
Image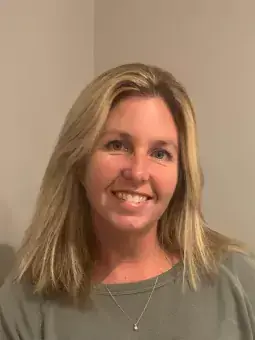 Along with her professional career, Decker is a mother of two children in which she is involved in their sports and education. She is extremely active with the children and volunteers in their day to day activities. She enjoys boating and spending time with her family and friends.
"I am honored to have the opportunity to be involved with the Beebe Medical Foundation," she said. "Born and raised in Sussex County, I have seen the area grow and understand the need for support from the local community. I look forward to being able to help this foundation in continuing to make a difference in so many lives."
The Beebe Medical Foundation Board of Ambassadors are valued members of the Beebe community who generously volunteer their time, energy and resources to support Beebe Healthcare. The Ambassadors are the liaison to the community promoting the importance of supporting Beebe through events, volunteer opportunities and personal philanthropy.
"It is a pure joy to welcome two great women who are outstanding leaders in our community," said Tom Protack, President of Beebe Medical Foundation. "They will bring a wealth of experience and enthusiasm. Dr. Johnson will be a great connector for the Foundation for the physicians in our community, and Juli Decker will help us increase our donor base in the fast-growing Long Neck and Millsboro communities. I look forward to working with both closely and thank them for offering their gifts and talents."
---