Beebe Medical Group Adds New Family Practice in Millsboro
Image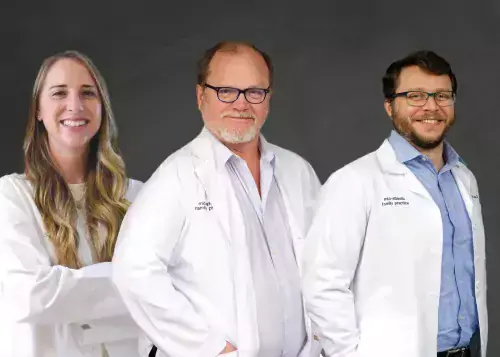 Beebe Healthcare is proud to announce that its employed physician group, Beebe Medical Group, recently opened a new family practice in Millsboro.
Beebe Family Practice – Millsboro DuPont Blvd is accepting new patients and is ready to safely care for Sussex County with COVID-19 precautions in place. The practice is located at 28538 Dupont Boulevard Millsboro, DE 19966.
New patients can call 302-645-3332 to make an appointment.
Physicians and practitioners include (left to right, above) Katie Skibinski, PA-C, Daryl Sharman, MD; and Tyler Bates, and an experienced nursing and administrative staff. Patients will be able to see providers in-person and on Beebe's growing telemedicine platform.
"These providers join a highly skilled and compassionate team at Beebe Medical Group, which has been rapidly growing to expand access to care for the Sussex County community," said Bobby Gulab, MD, Senior Vice President, Chief Medical Officer, Beebe Medical Group. "We remain committed to expanding access to primary care in 2021."
The Dupont Blvd. location adds a second primary care office in Millsboro. Beebe Family Practice Millsboro is less than a mile away on the other side of Route 113 at 232 Mitchell Street.
Beebe also provides a Walk-In Care, lab and imaging, endocrinology, and other specialty services in the Millsboro area.
Beebe Medical Group practices include the specialties of: Cardiothoracic Surgery, Dermatology, Endocrinology, Family Medicine, Gastroenterology, General and Bariatric Surgery, Hospital Medicine, Infectious Diseases and Travel Medicine, Internal Medicine, Pediatric Neurology, Pulmonary & Sleep Disorders, Surgical Oncology, Urology, Vascular Surgery and Women's Healthcare. Four Walk-in Care Centers serve the community in Rehoboth Beach, Georgetown, Millsboro, and Millville from 9 a.m. to 7 p.m. daily. The group also operates three school-based health centers at Cape Henlopen High School, Sussex Central, and Indian River High School.
For more information on the physicians or to find a new physician, go to https://www.beebehealthcare.org/doctors.
For more information on the new Dupont Blvd. practice visit: https://www.beebehealthcare.org/locations/beebe-family-practice-millsboro-dupont-blvd.
Image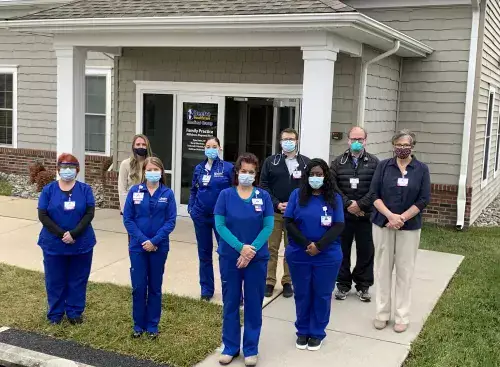 Beebe Family Practice – Millsboro DuPont Blvd care team:
Front Row- Left to Right:   Anita Burtson, PSR, Bonnie Rogers, RN,  Dena Schneider, Practice Manager,  Latesha Houchens, PSR
Back Row- Left to Right: Kathryn Skibinski, PA-C, Heather Winder, RN, Tyler Bates, DO, Daryl Sharman, MD, Kelly Wells, SA
---