Beebe's Gastroenterology Team Welcomes Sylvia Oppong-Antwi, NP
Image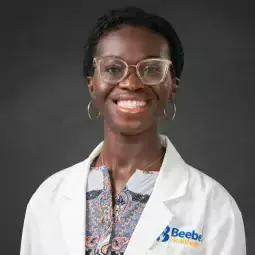 Beebe Healthcare is pleased to welcome Certified Registered Nurse Practitioner Sylvia Oppong-Antwi to Beebe Medical Group's Gastroenterology team. Oppong-Antwi focuses on the diagnosis and treatment of acute and chronic gastrointestinal conditions in adults at Beebe Gastroenterology Lewes. She helps patients who are managing chronic conditions through comprehensive outpatient-based care, and she also cares for patients who have been admitted to the hospital.
Oppong-Antwi earned her Master of Science in Nursing – Family Nurse Practitioner Program – from Millersville University in Pennsylvania, and her Bachelor of Science in Nursing from the University of Maryland School of Nursing in Baltimore. Prior to joining Beebe, Ms. Oppong-Antwi worked as a gastroenterological nurse practitioner at WellSpan-Good Samaritan Hospital in Pennsylvania and at Mary Imogene Bassett Hospital in New York State. At both hospitals, she was responsible for inpatient and outpatient consultations and follow-ups.
"I chose Beebe because of its geographical location and its outstanding reputation," Oppong-Antwi said. "I'm excited to be a part of this esteemed healthcare system."
Oppong-Antwi joins Beebe Medical Group, which includes 20-plus specialty offices in more than 40 office locations throughout Sussex County. Practices include the specialties of: Cardiothoracic Surgery, Dermatology, Endocrinology, Family Medicine, Gastroenterology, General and Bariatric Surgery, Hospital Medicine, Infectious Diseases and Travel Medicine, Internal Medicine, Pediatric Neurology, Pulmonary & Sleep Disorders, Surgical Oncology, Urology, and Women's Healthcare. Four Walk-in Care Centers serve the community in Rehoboth Beach, Georgetown, Millsboro, and Millville from 9 a.m. to 7 p.m. daily.
---