Beebe's Joyce Robert, MD, FAAFP, Appointed Vice President for the Delaware Academy of Family Physicians
Image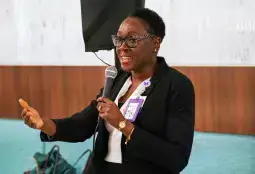 Beebe Healthcare is proud to announce that Joyce Robert, MD, FAAFP, Program Director of the Family Medicine Residency, has been appointed to serve as Vice President for the Delaware Academy of Family Physicians (DAFP).
In this role, Dr. Robert will support DAFP's mission to promote excellence in healthcare and the betterment of the health across the state of Delaware. She will serve a one-year term, representing Sussex County, Beebe Healthcare, and the R. Randall Rollins Center for Medical Education on DAFP's Board of Directors.
Dr. Robert plans to bring information and perspective to her colleagues at DAFP about the diverse challenges evident in Sussex County, impacting both provider and patient experiences. In tandem, she will have an opportunity to spotlight the innovative work being done at Beebe, including the launch of the healthcare system's new Family Medicine Residency, which recently celebrated Match Day in March and welcomes its first four students in July.
Dr. Robert intends to involve her team of family medicine residents in DAFP activities, including the organization's annual conference.
"DAFP is a great organization that promotes physician wellness, collaboration, research, and scholarly, activity, and I am grateful for the opportunity I have to get involved with the family medicine community at the state level," said Dr. Robert. "I am passionate about medical student and resident education. At the same time, I am eager to advocate for excellence in healthcare for the people of Delaware. My leadership role with DAFP will merge those passions."
At Beebe, Dr. Robert was responsible for developing, designing, and implementing the new, community-based Family Medicine Residency program, which will welcome its inaugural cohort of residents this summer. Dr. Robert has led strategic planning, research, curriculum development, planning of scholarly activities, and faculty recruitment for the program in preparation for its launch.
She is a graduate of the SUNY Downstate College of Medicine in Brooklyn, New York, and she is board certified by the American Board of Family Medicine. Additionally, she is a Fellow of the American Academy of Family Physicians, where is a member of the Commission on Education and serves on a subcommittee focused on the resolution of resident and student issues. 
---