COVID-19 Vaccine: Answering Questions about Speed, Safety, and Technology 
Image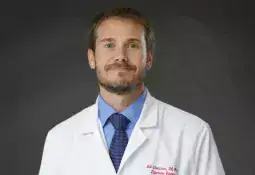 COVID-19 and the vaccines are a rapidly evolving situation. Please be aware that any information shared can change at any time.
By Dr. Bill Chasanov
It's December and that means the long awaited COVID-19 vaccine is getting closer to distribution in the United States and Delaware.
Public health officials and your Beebe Healthcare team have been planning for the arrival of COVID-19 vaccine for months – knowing that it is a major step to combatting the virus but not solving all the problems of the pandemic.
It's very important to understand that the three Ws will still be necessary: Wear your mask, Wash your hands, and Watch your distance. We are in the middle of another spike in COVID-19 cases. This spike is higher than in the spring and the three Ws can save lives.
It is natural to have apprehension to a new vaccine especially during these difficult times.
But the process to develop these vaccines have been tremendous and the speed at which we will now receive them is not due to a lack in safety. Recognizing the world's need for a vaccine, overlapping measures of review in development and the age of technological advancements has made this possible.
Technology is something we use all the time in healthcare. Beebe was recently the first hospital in Delaware to treat a COVID-19 patient with monoclonal antibody therapy, which was approved for emergency use by the FDA in November. This treatment was shown in clinical trials to reduce COVID-19-related hospitalization or emergency room visits in patients at high risk for disease progression within 28 days after treatment when compared to placebo, according to study in the New England Journal of Medicine.
Monoclonal antibodies are proteins made using technology and once infused, the antibodies support the immune system's ability to fight the virus.
This concept can be compared to the possible vaccines where a specific protein will trigger the body to create antibodies that could help fight off the virus if exposed in the future.
The Pfizer and Moderna COVID-19 vaccines, both pending FDA review, use a technology with messenger RNA (mRNA). mRNA is the blueprint that our bodies usually use to create proteins. The protein created by these vaccines will in turn cause the body's immune system to form antibodies (special proteins created by the body to fight off infection) against the COVID-19 virus.
Paula Cannon, an associate professor of microbiology at the University of Southern California's Keck School of Medicine, explained to NBC News how the new technology works in a very easy to understand fashion:
"When one particular gene needs to do its work, it makes a copy of itself, which is called messenger RNA," Cannon said. "If DNA is the big instruction manual for the cell, then messenger RNA is like when you photocopy just one page that you need and take that into your workshop."
What is reassuring is that both Pfizer and Moderna have used this technology for their vaccines, meaning their successful clinical trials support that this new technology is working. Both are awaiting emergency use authorization from the FDA.
If approved, the mRNA in the vaccine will trigger the body's immune system to produce antibodies without needing live virus.
It is absolutely fascinating and could be a game changer for vaccines and other disease therapies in the future.
While we all await more scientific data to support the vaccines effectiveness and safety consider these points:
The public will not be guinea pigs for the vaccine. The vaccine has been tested on more than 70,000 people who volunteered for large-scale clinical trials already.
Vaccine manufacturers also asked thousands of people from communities of color including black and Hispanic individuals to participate in their clinical trials.
Reported side effects have been minimal for the thousands who participated in the vaccine. The most common was sore arm at the injection site.
To stay updated on the vaccines progress, following Beebe Healthcare's Facebook page and visit beebehealthcare.org, as well as the Division of Public Health's website: coronavirus.delaware.gov/vaccine.
William Chasanov, DO, is board certified in internal medicine and infectious disease. He serves as the Clinical Transformation Officer at Beebe Healthcare. He also sees patients in the hospital at the Margaret H. Rollins Lewes Campus and at Beebe Infectious Disease and Travel Medicine.
---