Joshua Coffield, Director of Pharmacy, Earns Credential as a Certified Pharmacy Executive Leader
Image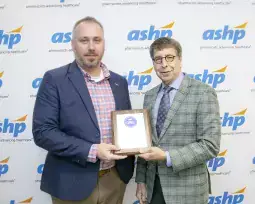 Joshua Coffield, PharmD, MBA, CPEL, Lean Six Sigma Green Belt, who serves as Beebe Healthcare's Director of Pharmacy, recently earned the Certified Pharmacy Executive Leader (CPEL) credential from the American Society of Health System Pharmacists (ASHP).
He is the first pharmacy leader in the state of Delaware to earn this certification and was one of just 27 pharmacy leaders from across the world selected to participate in the most recent cohort of this program.
The CPEL certification validates professional and leadership competencies within pharmacy operations as well as across complex healthcare systems. Launched by the ASHP in 2021, the certification acknowledges the unique expertise of pharmacy executive leaders and opens a door for the best of the best to unite, network, and learn from one another.
Coffield, who has served as Beebe's Director of Pharmacy for nearly six years, pursued the certification opportunity with a goal to collaborate with industry leaders and colleagues who face similar challenges in their day-to-day work, and who share common goals to adopt best practices and optimize operational efficiencies, while meeting regulatory and compliance requirements.
"As a leader, I believe it is important to have a collaborative network of people within your industry that you connect with and learn from," said Coffield. "Through the process of earning this certification, I met with pharmacy leaders from all over the country and different parts of the world who use different programs and automations. It was enlightening to work through case studies together, gather their perspective, and identify new approaches for consideration, based on what works well in other pharmacy environments."
ASHP is the largest association of pharmacy professionals in the U.S., with more than 60,000 members who practice in all patient care settings. The organization is recognized for its efforts to champion innovation in pharmacy practice, education, and professional development, while advocating for members and patients. ASHP is also the accrediting body for pharmacy residency and technician training programs, with comprehensive resources available to support pharmacy professionals such as Coffield, throughout their careers.
Coffield earned his Doctor of Pharmacy degree at the University of the Sciences at the Philadelphia College of Pharmacy. He also earned a Master of Business Administration with focus on Healthcare Administration from Wilmington University. Additionally, Coffield trained at the Pharmacy Leadership Institute based out of the Boston University Questrom School of Business. He currently serves on the Delaware Board of Pharmacy and is a member of the Delaware Pharmacist Society.
"Beebe is an independent hospital, and it is my responsibility as a leader to pursue these types of engagements, to not only better myself as a professional but also to position Beebe as a true community leader," said Coffield. "We have the ability to increase the pharmacy's presence in our community and are committed to doing so."
---