Kudos to You, Sussex County: Campaign Raises $52,000 for Beebe Healthcare
Image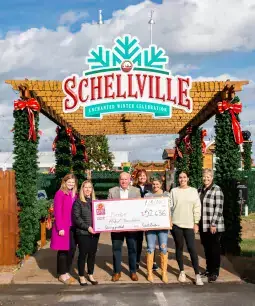 Thank you for the kudos, Sussex County, as Project Kudos powered by Schell Brothers raised $52,636 for Beebe Healthcare.
Project Kudos is an opportunity to show appreciation and gratitude for those around us by giving them kudos via social media on Facebook or Instagram. For each kudos received by Beebe, Schell Brothers donated $1 to Beebe Medical Foundation.
In January 2021, Schell Brothers started the Kudos for a Cause Campaign. They partner with a different charity to help spread happiness and raise money for a nonprofit organization. They have already donated over $285,943 to more than 61 local organizations. Schell Brothers is harnessing the power of social media to make people feel awesome by doing good.
From left to right: Stephanie Adams, Amy Keller, Tom Protack, Sue Tucker, Alyssa Titus, Adelina Riddick, and Kay Young.
---