Margaret H. Rollins School of Nursing Honored as Center of Excellence in Nursing Education
Image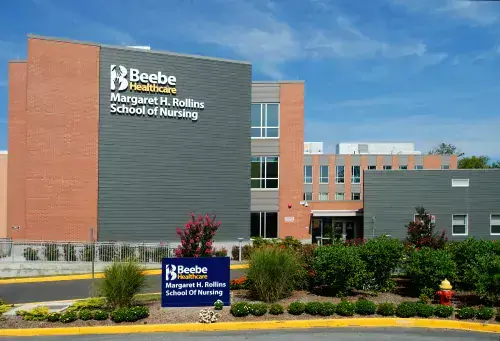 Margaret H. Rollins School of Nursing at Beebe Healthcare has been chosen as a 2021 Center of Excellence in Nursing Education by the National League for Nursing.
The School of Nursing was the only hospital-based nursing diploma program to receive this award and shares this accolade with other prestigious school such as Duke University, The University of Florida, Emory University, and the University of North Carolina.
Beebe is one of 23 nursing programs from across the country and across the academic spectrum of higher education in nursing and leading teaching hospitals and clinical sites that were named 2021 National League for Nursing Centers of Excellence.
Karen Pickard DNP, MSN, RN, CNE, Director of the School of Nursing, together with the faculty worked very hard over the last six months to submit a lengthy application which demonstrated excellence in enhancing student learning outcomes and professional development.
Beebe team members and alumni supported the effort with testimonials to help the school meet and exceed the criteria. The application highlighted the school's successes over the last three years, specifically addressing the program's student outcomes, state-of-the-art teaching resources, community support, service-learning study abroad program, student scholarships, and faculty development.
"The idea to apply for this prestigious designation was really prompted by my colleagues at the University of Delaware," Pickard said. "As members of our advisory board, they saw first-hand all of the innovation and creativity taking place at the Margaret H. Rollins School of Nursing. This innovation coupled with very successful student outcomes created the perfect opportunity to go for it! Receiving this honor during the school's 100th anniversary year, makes this recognition even more meaningful."
National League for Nursing Chair Dr. Patricia S. Yoder-Wise, RN, EdD, NEA-BC, ANEF, FAONL, FAAN, Professor and Dean Emerita at Texas Tech University Health Sciences Center and president of The Wise Group said, "It's no secret that a team of scholars and visionary leaders co-collaborate to create and sustain educational excellence. Those individuals—faculty, academic leaders and staff —deserve our deepest gratitude. Centers of Excellence faculty and leadership bear a responsibility to share their experience, knowledge and wisdom for the benefit of everyone in nursing education. Our deepest thanks to all of them for doing so."
The Margaret H. Rollins School of Nursing will be celebrated and presented with an award at the 2021 NLN Educational Summit in Washington, D.C. this September.
The Margaret H. Rollins School of Nursing at Beebe Healthcare is the only hospital-based nursing program in Delaware and is accredited by The Accreditation Commission for Education in Nursing (ACEN). The diploma in Professional Nursing is awarded at the completion of the curriculum, qualifying graduates to be eligible for National Council of State Boards of Nursing NCLEX examination, leading to licensure as a registered nurse.  Beebe graduates consistently have high NCLEX pass rates.
The School of Nursing graduating class of 2020 achieved a pass rate of 100% and the school was named the No. 1 nursing school in Delaware by RegisteredNursing.org.
For more information on the School of Nursing, go to www.beebehealthcare.org/school-nursing.
---