Paws for a Cause Fundraiser Benefits Beebe's Center for Breast Health
Image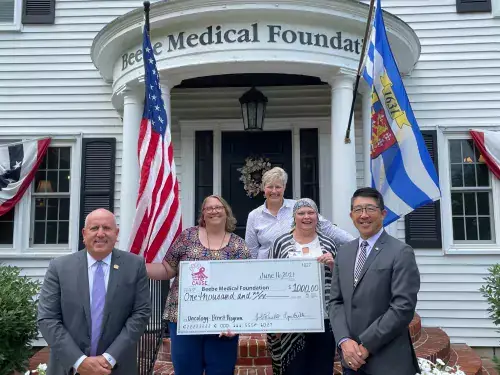 Paws for a Cause, held at Fur Baby Pet Resort in Milford on June 5, was initiated by Jenn Parnell who owns Leap of Faith Event Planning and Fundraising. The day was designed to help spread awareness and raise money for the Beebe Center for Breast Health while people had fun visiting many vendors and seeing pups.
Jenn initially wanted the fundraiser to support her long-time friend Lynn Bullen Wilkins, Executive Assistant to Beebe Healthcare President & CEO Dr. David Tam. Lynn is receiving treatment through Beebe's Oncology Services. Lynn decided the best cause to support with this fundraiser would be the Beebe Center for Breast Health, especially with the recent addition of breast surgeon, Diana Dickson-Witmer, MD, who is leading the Center at Beebe.
"I was honored when Jenn Parnell wanted to host a fundraiser in support of my breast cancer journey. I am receiving excellent care from Dr. Dickson-Witmer, Dr. Murukutla, and the entire oncology team, so giving back to the breast care program is my honor," said Lynn Bullen Wilkins.
Jenn and her husband, Mike Parnell, began creating fundraisers for a variety of causes during the COVID-19 pandemic. They run two to three events per month and work with up to 45 vendors. At this time, their events are planned for audiences outdoors, but with COVID restrictions loosening, they are looking into venues for indoor events in the future.
"Leap of Faith Events was honored to have helped to raise awareness and support for all who are battling cancer and pray that this small donation will go to help fight this battle.  We are all in the fight together," said Jenn Parnell.
"Every day, I am amazed at the strong community support that Beebe Healthcare receives from so many people and organizations. Each gift is special and appreciated and very much needed as Beebe Healthcare grows to meet the many needs of our community," said Dr. Tam.
PHOTO: Tom Protack, President of Beebe Medical Foundation, Kay Young, Executive Director of Development, and Dr. David Tam, President and CEO of Beebe Healthcare receive the Paws for a Cause gift from Jenn Parnell and Lynn Wilkins.
---