The Pines Restaurant raises $19,000 for Beebe Healthcare's COVID-19 Relief Fund
Image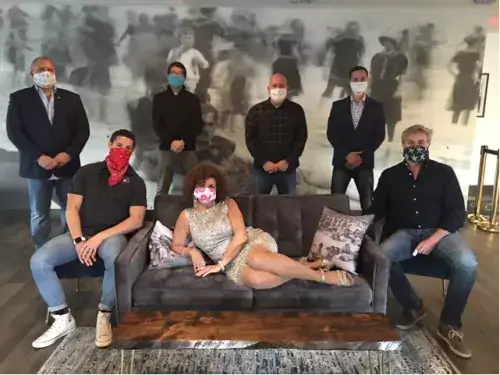 Beebe Medical Foundation received a donation of $19,000 from the Pines Restaurant in Rehoboth Beach, Delaware, from the proceeds of a four-week Saturday night virtual fundraising series at the "Top of the Pines."  
Each Saturday night, a dinner, show, and auction were held featuring different entertainers: Pamala Stanley, Mona Lotts and Michael Solonski.  
"We wanted to do something for our local heroes at Beebe Healthcare," said David Gonce from the Pines. "We reached out to Tom Protack, President of Beebe Medical Foundation, and we began brainstorming together with our Pines team and the Foundation team. It truly was a win-win for everyone during a time of economic duress. We were able to increase our carry-out food, have entertainers share their talent, and make an impact with donations large and small from our followers."
Image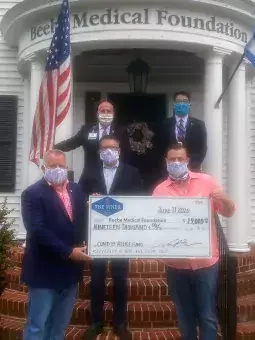 Tom Protack shared, "The generosity, vision and creativeness of the Pines team made quarantine less stressful and connected people virtually who would normally be together in Rehoboth. They were able to generate business to keep their team working, raise awareness about how important it is to support your local hospital, and the viewers enjoyed a fun night." 
Each week, a different Beebe Healthcare leader, including President & CEO David A. Tam, MD, MBA, FACHE, began the evening on stage sharing updates on Beebe Healthcare's COVID-19 relief efforts. Local businesses and artists donated items to be auctioned during the show and local businesses sponsored the entertainment.  
"You could not have asked for a better blend of support during a pandemic. I was honored to be a guest speaker and realized the power of this local community rallying to support their local nonprofit healthcare system," Dr. Tam said.
Mark Clark, of Clark HVAC services, sponsored the entertainment one Saturday night and talked about why it was important to him.
"It was a great cause to support and a lot of fun to provide something uplifting during a very stressful time," he said. "My own daughter is an Emergency Department nurse in Wilmington. I have always supported Beebe Healthcare events and know how important it is for local businesses to give to their local healthcare system. We all need Beebe because they are there for us in our time of need."  
All of the proceeds raised helped offset their increased expenses of Beebe Healthcare during the pandemic. To learn more ways how you can support Beebe Healthcare, go to beebemedicalfoundation.org.
Caption: Above, right: From left to right, David Gonce, Bob Suppies, and Tyler Townsend present a donation to Beebe Medical Foundation President Tom Protack and David A. Tam, President & CEO of Beebe Healthcare. 
---