Knowing Beebe is There Means Everything to This Vacationer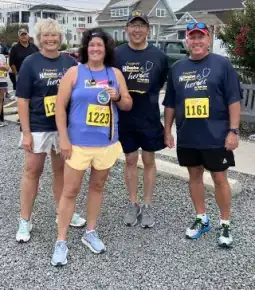 By Jessica A. Trell
Dr. Tam: My family and I are from Pennsylvania. We love the beach, so vacations to the Delaware shore are part of our family's DNA.
A few years ago, my daughter Bailey had a medical issue while we were on vacation here at the beach. She was weak, her pulse was high, she was suffering with a severe headache, and she complained of chest pain. My husband Rob and I were scared. We searched for the nearest healthcare facility and then raced her to Beebe Healthcare's Emergency Department in Lewes.
Let me start by saying that it's intense when a parent brings a child into emergency care. Rob and I were beside ourselves because Bailey was not really coherent. We felt very vulnerable, and although we did not know what to expect, we were given excellent care at Beebe.
From the moment we walked into the emergency department, all eyes were on Bailey. The ER docs and nurses took us back and started working on Bailey right away. I had a million questions, and even though we were there until the wee hours of the morning, no one acted as if my questions were a bother to them. The staff was courteous, the department was clean and organized, and everyone – from check-in through discharge – was simply excellent. Bailey was given immediate and terrific care, and even the lab tech doing her blood draw distracted her so that she didn't faint. She was awesome.
The staff even kept checking in on us to make sure that we were OK, too, which made our Beebe experience very soothing.
With 33 years of healthcare administration experience, I certainly approached our Beebe visit with an experienced eye for healthcare detail. I was beyond impressed. Dr. Tam, you are at the helm of a terrific organization that employs a genuine, caring, knowledgeable, compassionate and professional staff that made a world of difference in our lives during this most difficult moment.
I ran the Beebe Heroes 5K Run/Walk July 10 in honor of the care that Beebe gave to Bailey a few years ago. The Beebe Heroes made quite the impression on our family.  Thank you and Beebe Healthcare for being here for me and my family in our favorite vacation spot!
As a community-based, not-for-profit healthcare system, Beebe Healthcare depends on the generous support of the community it serves. To make a gift to celebrate the excellent care you or a loved one has received, visit Beebe Medical Foundation at beebemedicalfoundation.org or call 302-644-2900. Want to share your story? Contact Amanda Neal at [email protected].
---