Tracy Williams: We are Nurses. This is What We Do.
Image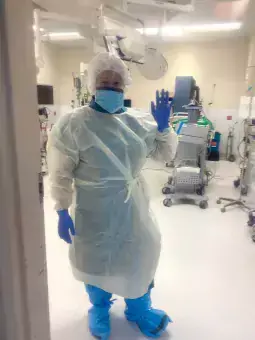 Tracy Williams, RN, CAPA, CNIV, has been a nurse for 43 years. She is currently the charge nurse in Beebe's Same Day Surgery department.
She is a graduate of the Beebe School of Nursing, now the Margaret H. Rollins School of Nursing. 
When COVID-19 hit, Tracy and many of her colleagues were re-trained and re-deployed to other units throughout the hospital. Tracy spent time working on COVID units, taking care of critically ill patients.
"This has been a very stressful time for us all. We love our jobs. Nurses just want to help people and that's what we do. I have been very grateful for the community support. As nurses, this is just what we do but it has been really nice to see how the community is supporting us."
WATCH HER VIDEO -->
---