Be Balanced: The New Normal with COVID-19
Image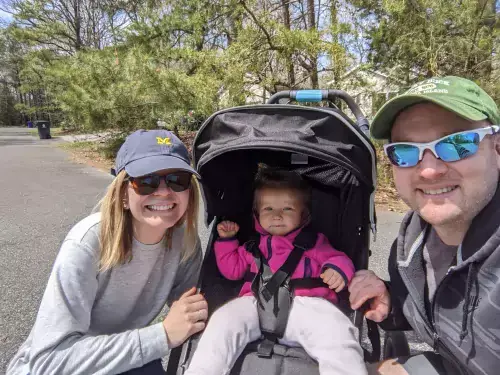 Well hello there! I've been a little quiet on the blog these last few months, and that's because I thought that as of mid-March, I'd 1) no longer be employed by Beebe Healthcare and 2) be actively preparing to move to Virginia. But as you've probably guessed by now, the world has had other plans.
Several months ago, my husband accepted a promotion that will have our family relocate to a small town about an hour and a half west of Washington, D.C. It was a big change to be sure, but I was thrilled at the prospect of being able to spend more time with my daughter. I'd never envisioned myself as a stay-at-home mom, but working full time with a young baby tugged at my heartstrings and tested my sanity in a way I didn't even know was possible. Being able to work part time or stay home felt like such a gift, and I knew I had to give it a try.
The plan was to put our house on the market the first week of March, sell it quickly, and buy a house in our new town. My last day at Beebe would be in mid-March and we'd keep our daughter in daycare for another few weeks while I packed up the house and indulged in some much-needed self-care. The week after Easter, the movers would show up and we'd be on our way to Virginia.
For the first week and a half that our house was for sale, this all seemed like it would go off without a hitch. We had tons of showings and online views of our listing. But as the news of the novel coronavirus (COVID-19) became more troubling, activity on the house slowed down. My plans to get all of my work projects tied up with a proverbial red bow went off the rails as the marketing team's work shifted increasingly toward COVID-19 communications.
My last day was Friday, March 13. On Tuesday, March 17, my director called and asked if I'd be willing to come back on a part-time, remote basis to assist with internal communications.
And boy, were there a lot. That first week "back" was insane, in part because of the volume of work, but primarily because I was trying to work and take care of not one, but two babies. Daycare was still open, but neither my sister nor I felt comfortable sending our kids, so I was watching both my one-year-old daughter and my seven-month-old nephew. Oh, and Dave was traveling for work two out of the four days.
I say this not to play the world's tiniest violin; my husband and I are fortunate to have jobs that have not been severely impacted or eliminated by the coronavirus crisis, and I am even more fortunate to be able to care for my daughter and my nephew at home. But it was a lot, and I know it has been a lot for many, many families in our area, across the country, and around the world.
Things leveled out after that first week. My director brought in additional help, Dave was home more as his work slowed down, and I got into a bit more of a groove caring for the two babes. Once Gov. Carney issued his stay-at-home order, our lives have slowed down more than we could have ever thought possible.
We're home all day, every day. We take a "nap walk" most mornings and a "nap drive" most afternoons, just for a change of scenery. We plan grocery store trips so that we don't have to go more than once every other week. The girl who thought she'd never be a stay-at-home mom because she hated being in the house all day has gotten the most intense introduction to stay-at-home mom life possible.
Like everyone else, we're finding new ways to connect with family and friends. My mom and I now chat via Duo (the Google equivalent of FaceTime) almost every day, and I've had Zoom calls with my college girlfriends and my cousins – people I love but who I rarely get to talk to because life is normally so busy. Some things have looked really different. We held my daughter's first birthday party via Zoom, and one of my best friends from college is postponing her wedding for a year due to all of the uncertainty. We've decided that rather than buying a house, we'll be renting until our house sells – which we expect to take at least 9-12 months.
Being at home so much with limited social interaction and a near-constant stream of scary news is extremely anxiety provoking, but I've tried to look for the good in all of this. My friend who's postponing her wedding is now planning a small civil ceremony on October 1 of this year, and will have another ceremony and a big party on October 1 of next year, which I think is so cute! Living in an apartment will be a great opportunity for us to practice minimalism and to build up our savings. And all of these nap walks that Dave and I have been taking have been a wonderful chance for us to connect. We've also gotten more exercise in the past three weeks than we have in the past year.
I remind myself daily that what I'm doing is enough. I haven't taken on any house projects (although Lord knows our house could still use some TLC) – packing, working a little, and caring for a baby are plenty. Whatever you're doing, however you're doing it, you're doing enough too. These are crazy, scary, unprecedented times, and we are all doing the best we can.
---