Family Medicine Residents
---
Class of 2026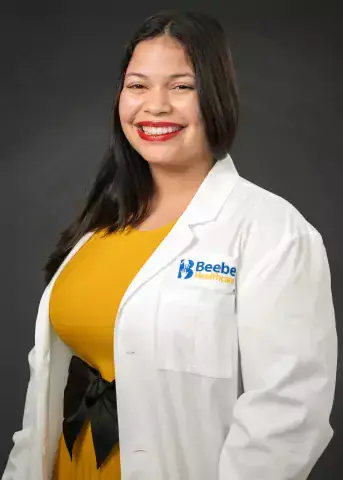 When Sofia Perez Delgado, DO, started to think about what field of medicine to specialize in, one thing was for certain: she wants to take care of people throughout the course of their lifetimes. She has a vision to be the "go to" resource for both children and adults, as they age, change, and have ongoing needs for medical care. Serving as a family medicine physician will give her that opportunity.
"Continuity in care is very important to me as a physician," said Dr. Perez Delgado. "This is what family medicine centers around, and it is the right choice for me."
While pursuing her medical degree at the Philadelphia College of Osteopathic Medicine (PCOM), Dr. Perez Delgado was encouraged to be open-minded about residency training opportunities – even those located in areas far away from her hometown in Florida. She learned that Beebe Healthcare was planning to introduce a family medicine residency, and the idea of being part of a brand-new program had a lot of appeal. Dr. Perez Delgado applied, interviewed, and then waited, with hope. Her conversations with medical education leaders at Beebe had sealed the deal – Sussex County is where she really wanted to be.
"I loved how Dr. (Joyce) Robert presented the family medicine program with focus on the experience its residents would have – to not only learn but also to be a pioneer in how the residency program would launch and grow, over time," recalls Dr. Perez Delgado. "Everyone was so thorough, and emphasized that the building of this program would be a true team effort. I walked away knowing that if I trained at Beebe, I would have a truly unique experience that will prepare me well for my career."
Dr. Perez Delgado was thrilled to learn her fate on "Match Day" in March 2023, when she opened her envelope and saw that she would be headed to Beebe Healthcare for three years of residency training. She is confident that she will fit in well at Beebe and is she is grateful to be part of the hospital's inaugural class of family medicine residents.
"I know that Beebe is a place where I can practice competencies, build confidence, and gain all the skills I need to serve as a family medicine physician for life," said Dr. Perez Delgado. In thinking about her relocation to Delaware, Dr. Perez Delgado is excited to live in and explore a new place and experience all the seasons – from the coldest winter days to the hottest summer nights. She has always been a beach lover, and she enjoys jet skiing and other watersports. That said, Dr. Perez Delgado is happy that her new home will give her the opportunity to put her toes in the sand anytime she wishes. Additionally, Dr. Perez Delgado is passionate about baking and spends quite a bit of her free time in the kitchen, making cakes.
"I have so much to look forward to and I am so grateful for the opportunity to be part of Beebe as I take this important next step," said Dr. Perez Delgado.
---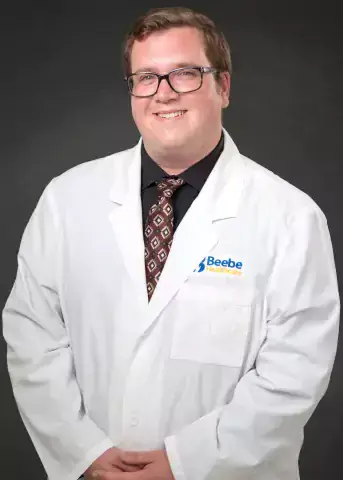 Dr. Harrison Eckert was chosen to be part of the inaugural class of family medicine residents at Beebe Healthcare. When the time came to apply for residency training, he initially identified 24 healthcare organizations to interview with. Beebe was his twenty fourth, and favorite interview.
"I ranked Beebe as my first-choice residency program because there was a lot of appeal in being part of a program at its start, and having the opportunity to be part of such a special milestone. Plus, every person I spoke with at Beebe was exceptionally focused and committed," said Dr. Eckert. "The overall sense of camaraderie and passion for educating was very apparent, and it was clear to me that I would be trained by some of the most intelligent physicians I have come across in my medical training thus far."
Dr. Eckert will join Beebe's family medicine program as a graduate of the Philadelphia College of Osteopathic Medicine (PCOM), where he was presented the Adele and Herbert Gorin Scholarship for his commitment to meeting the healthcare needs of the LGBTQ community. During his time in medical school, he also earned a Gold Certification for completion of PCOM's Culture Competency Program, and a Silver Badge for his participation in the Touch Program, through which he completed more than 35 hours of community service work, annually.
"Another reason Beebe was the ideal choice for me is that Delaware is an underserved area, and the need for more doctors to serve the people who live here is growing," said Dr. Eckert. "I want to take what I learned in medical school into a community that can benefit from my knowledge and service, long-term. I want to train at a hospital where my work can really have a positive impact on the community. My goals align with who Beebe is."
Dr. Eckert has made the decision to specialize in family medicine because it will allow him to focus on a broad scope of healthcare. His clinical interests are diverse, and include osteopathic manipulative treatment medicine, addiction medicine, LGBTQ care, HIV care, academic medicine, legislative medicine, and healthcare for the underserved. Family medicine gives him the opportunity to connect with, serve, and advocate for many different people, with many different healthcare needs. Harrison is also fluent in Spanish, which gives him a unique opportunity to care for an even more specialized population of Sussex County.
"For so many reasons, Beebe is a healthcare system that allows me to pursue my interests within family medicine," said Dr. Eckert. "I would also love to teach, and I believe I will have the opportunity to achieve that goal at Beebe, or because of my experience at Beebe, in the future."
Dr. Eckert grew up in eastern Pennsylvania and has fond memories of vacationing in the Lewes and Rehoboth Beach area throughout his life. Today, his greatest passion is music and his interests range from musical theatre to following local bands and seeing his favorite pop artists in concert. When Harrison is not working, he enjoys spending time with friends, binge watching Netflix, traveling, making charcuterie boards, indulging in new types of foods, and of course – relaxing on the beach.
---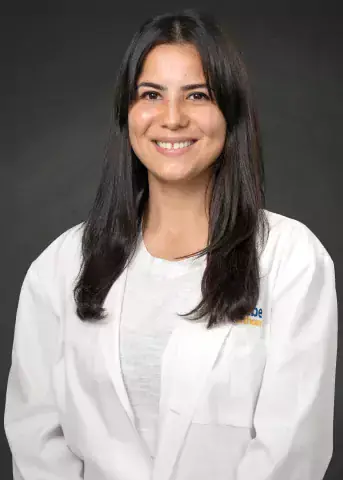 Monica Javadian, MD, had a fairly long wish list when she began investigating residency programs that might be a good fit, based on her career goals. She wanted to join a healthcare system that serves a rural community, and that is committed to practicing and providing modern day, community-based medicine. She wanted to be trained by a team of clinical experts with diverse medical interests and specialties, where she would be able to build the skills needed to be a family medicine physician who tends to both the body and the mind, in her day-to-day interactions with patients. Equally important, she wanted to relocate to an area that is safe and family-friendly, with lots of opportunities to enjoy the great outdoors and have some fun.
Dr. Javadian found all of that, and more, when she interviewed for one of four available positions within the new family medicine residency program at Beebe Healthcare.
"I came away from my interviews feeling excited because Beebe offers a little bit of everything I was in search of," said Dr. Javadian. "I knew it was a place I could achieve my goals as a resident, but also enjoy living with my family."
Another benefit – and reason why Dr. Javadian listed Beebe as a top choice program - was that the family medicine residency could offer her a unique opportunity that she would be hard pressed to find elsewhere: the chance to be part of a program at its time of launch.
"I was really drawn to the idea of being in a place where everyone is excited to be part of something new, and to be learning together," said Dr. Javadian. "You can really feel the energy at Beebe."
Dr. Javadian's desire to become a family medicine physician started many years ago, after witnessing the long-term physical and mental suffering her father experienced after being a political prisoner in Iran. He eventually fled, found refuge in Denmark, and got the medical care he needed from a primary care physician who was genuine, thorough, and focused on helping him cope, recover, and go on to live a better and happier life.
"I saw for myself, through my dad's experience, how important it is for people to have a doctor they trust, and who can take care of them over the course of their lifetime," said Dr. Javadian. "It inspired me. I know that as a family medicine physician, I will have the opportunity to help people in many ways – from treating their illnesses and injuries to supporting them mentally through healing and recovery."
Dr. Javadian earned her medical degree at the American University of the Caribbean School of Medicine in Saint Maarten. Some of her core clinical interests include addiction and street medicine, and HIV care. And, she has a strong desire to make a difference in the lives of underserved patient populations. A native of Denmark, Dr. Javadian is fluent in Danish and Farsi, in addition to English, and has basic communication abilities in the German, Norwegian, Spanish, and Swedish languages. She is very much looking forward to settling in, in Sussex County.
"My husband and I are true beach lovers, so we are looking forward to going on walks at sunrise and sunset, getting out on the water, and exploring the area," said Dr. Javadian. "I have so much to look forward to. I am so excited to have the opportunity to be part of Beebe and its community."
---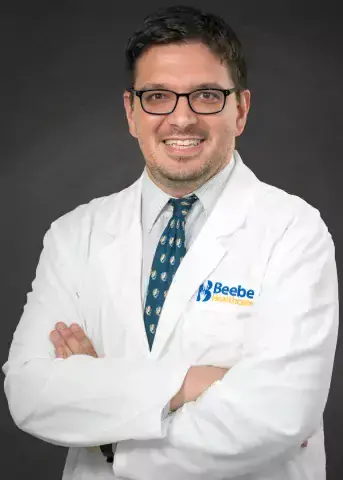 When a trusted leader and mentor recommended that he look into the brand-new family medicine residency program that was launching at Beebe Healthcare, at first, Jacob Valvis, DO, felt a tad apprehensive.
"I always thought that for my residency, I would go somewhere well-established, with a long-known history of training medical residents," said Dr. Valvis. "At first, Beebe seemed like a risky choice since it is new. But the more I learned about Beebe and the family medicine residency program that is being built, the less concerned I felt, and the more excited I became."
It became quickly apparent to Dr. Valvis that Beebe Healthcare's system serves an incredibly diverse patient population and is readily committed to branching out into the community. It is also fully vested in providing outstanding medical education to both residents and members of the local community.
Dr. Valvis sensed he would be supported in his development as a resident. He felt a strong camaraderie among his potential mentors and peers, with a sense that he would be able to confide in and learn from them. Beebe's family medicine residency leaders were looking for group of residents that would not only be able to relocate, but also work together to build a foundation for their new, impactful, and exciting program. Dr. Valvis concluded his tours and interviews with a new level of excitement for all that Beebe had to offer, and for what he would be able to get out of his training experience if he "matched" with Beebe.
"Everyone I spoke with reinforced that they would want to hear my ideas and that I would really be about to help shape this program for growth, over time," recalls Dr. Valvis. "I wanted train in a place where I could learn a lot and have some fun, while also feeling valued, comfortable, and safe. Beebe proved to be a great choice for me."
Dr. Valvis graduated with a Doctor of Osteopathic Medicine degree from the Philadelphia College of Osteopathic Medicine, where he then completed a transitional year of residency training. He also completed a Master of Science at Drexel College of Medicine and a Bachelor of Science in Medical Laboratory Sciences at the University of Delaware. His experiences as a student confirmed that family medicine is his ideal career path because of the opportunities it presents for physicians to address a wide range of medical issues, while collaborating with a diverse spectrum of specialty providers.
"I realized early on – particularly during my third and fourth year as a medical student and during my transitional year of residency – that so many areas of medicine are fascinating, and I want to touch it all in my day-to-day work," said Dr. Valvis. "As a family medicine physician, I know I will have the opportunity to really get to know my patients on a personal level. I will get to hear their stories and have an impact on their lives in ways that may go beyond the issues they present with that require medical care."
Dr. Valvis's interests are just as diverse outside of work. He enjoys exploring new places, visiting restaurants and breweries with friends, watching and playing sports, seeing new movies and concerts, and playing video games. What he has been most passionate about since a child is building model kits from the anime "mobile suit gundam." As a Delaware native from the Hockessin and Wilmington areas in New Castle County, he is looking forward to moving to Sussex County, where the opportunity will exist to do all of the things he loves, plus spend time relaxing near the ocean.
"I choose Beebe because of the quality of the program and the expertise of the team, staff, and attendings," said Dr. Valvis, "But the location, and the fact that the hospital is in a beach town … yes, that was a draw. It's going to be a lot of fun!"
---
---