Quality. Expertise. Close to Home.
Beebe Healthcare's Board Certified interventional cardiologists are able to diagnose and treat cardiac patients who may need catheter-based interventions for heart disease and heart-related illnesses. Beebe offers advanced surgical procedures in its interventional cardiology labs, hybrid operating room, and surgical suites at the Margaret H. Rollins Lewes Campus.
---
Beebe is First in Delaware to Use TAVR Sentinel Device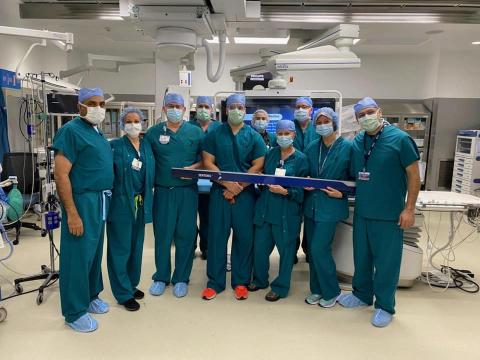 Beebe Healthcare provides transcatheter aortic valve replacement or TAVR procedures in our advanced Cath Labs at the Margaret H. Rollins Lewes Campus.
The TAVR procedure offers patients an alternative to open heart surgery. It allows our interventional cardiology teams to replace the aortic valve, one of the most important cardiac valves, without open heart surgery. It's a safe procedure for patients with aortic stenosis or a hardening of the heart valves.

In addition, Beebe is the first hospital in Delaware to use the Sentinel device. This innovative device is used during the TAVR procedure to capture debris that may be within the blood. This allows our team to prevent risk of stroke during the TAVR procedure.
---
Commonly Searched Procedures
---
Additional Resources & Articles
---
For Common and More Serious Conditions
Our interventionalists treat people of all ages, some with serious cardiac conditions. We provide care for common problems such as chest pain (angina), as well as more serious conditions, such as heart attack (myocardial infarction) and mini-stroke (transient ischemic attack).
Beebe's interventional cardiology team performs procedures in the newly opened Interventional Cardiology Lab, Cardiac Cath Labs, and in the state-of-the-art hybrid operating room at Beebe's Margaret H. Rollins Lewes Campus.
---
Meet the Team
---
Beebe Offers TAVR for Patients
Severe aortic stenosis affects approximately 165,000 low-risk patients a year.
The condition occurs when the aortic valve leaflets become stiff and thickened and have difficulty opening and closing, making the heart work harder to pump blood to the rest of the body and thereby impacting an individual's daily activities. If left untreated, patients with SSAS can die from heart failure in as little as two years.
TAVR is an innovative treatment that can correct the aortic valve, allowing the heart to perform better.
Beebe Healthcare is proud to offer the TAVR procedure at the Margaret H. Rollins Lewes Campus.
Talk to your doctor or care team to see if you might be a candidate for this life-saving procedure, now available at the state-of-the-art hybrid operating room at Beebe's Margaret H. Rollins Lewes Campus.
---
Coronary Catheterization Looks Into the Heart
Coronary catheterization is often the best way for cardiologists to confirm a preliminary diagnosis. When such tests are inconclusive, coronary catheterization may be able to show, with remarkable clarity, exactly what the problem is and where it is located. After using local anesthesia and moderate sedation on the patient, doctors insert a tiny plastic tube, or catheter, through veins or arteries, directly into the chambers of the heart itself. Blood can be sampled for testing and pressures can be measured.
Then, by injecting special dye through the tube, the heart itself, and vital surrounding blood vessels, can be observed in action. Valve activity, blood flow, and blockages become visible through special X-ray monitoring screens. Diagnosis may be clarified and confirmed, and treatment options frequently become obvious to the experienced cardiologist.
The procedure is usually done on an outpatient basis, and the patient should allow a full day for the procedure and recovery. Risks and complications from the procedure exist, but they are minimal.
Services Offered
Stent Implantation
Coronary Stenting and Angioplasty
Interventional Radiology
Coronary Catheterization Diagnostics
Coronary Atherectomy
Percutaneous Coronary Interventions (PCI)
Peripheral Vascular Intervention and Primary PCI
Balloon Angioplasty (Percutaneous Transluminal Coronary Angioplasty, or PTCA)
---
Contact the Heart Health Nurse Navigator
Have questions about your heart health or an upcoming procedure? Beebe Nurse Navigator Carrie Snyder can help.