In 2017, Margaret and Randall Rollins returned to the Margaret H. Rollins School of Nursing to announce a transformational gift toward the Creating the Next Generation of Care facilities and services expansion plan. The Ma-Ran Foundation donated a historic $10 million to Beebe Medical Foundation to help make improvements on the Lewes campus.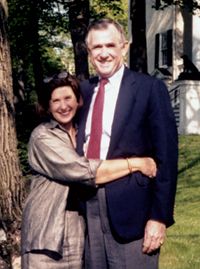 Randall and Margaret Rollins In 2011, following a generous donation to the Nursing Education Campaign, the Beebe Healthcare Board of Directors recognized the donors by renaming the school in honor of Margaret H. Rollins, a Lewes native and long-time supporter of Beebe.
The generous gift was made through R. Randall Rollins and Margaret Rollins' Ma-Ran Foundation. It was the largest in the history of Beebe Medical Center, and allowed for the construction to begin on expanding and modernizing the existing School of Nursing, which was founded in 1921.
Mrs. Rollins, known to childhood friends as Peggy Hastings, was born in 1933 in Lewes and spent her childhood and early adulthood in the community. She attended Lewes School, and worked in the administrative offices at Beebe Hospital after school and on weekends when she was in high school. She went to Goldey-Beacom College in Wilmington and then returned to Lewes to work full time at Beebe Hospital in administration. She and Mr. Rollins were married in Lewes in 1953. The couple had their oldest two of six children in Lewes before relocating to Wilmington, and later to Atlanta. They have many friends in Lewes and continue to return regularly to their house on Lewes Beach.
The Ma-Ran Foundation has been a continual benefactor of Beebe Healthcare since 1985. Randall Rollins is the son of O. Wayne Rollins and a nephew of John Rollins, who also has been a benefactor of Beebe.